DPCC RESIDENTS BENEFIT FROM A GRANT FOR THEIR SECRET GARDEN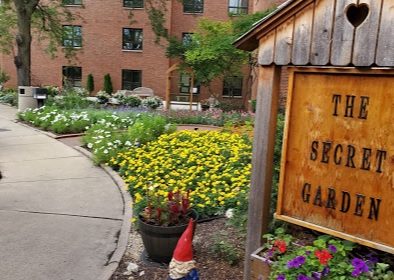 Bloomingdale Garden Club, in collaboration with DPCC's University of Illinois Extension DuPage Master Gardeners, was awarded a $1,000 "Plant America Community Grant" by the National Garden Clubs Inc. The organization has a major focus on "Pollinator Gardens," as well as "Healing Gardens" for hope and awareness. This grant will support the planning, design and supplies for a new pollinator/healing garden in the Secret Garden!
Through the initiation & planning by Master Gardeners, Linda Kunesh & Leslie Mabbott, Midwest Groundcovers in St. Charles, donated more than $600 in perennials, shrubs, and other plants that will draw in pollinators for this new garden. This fall, Bloomingdale Garden Club members & Master Gardeners planted more than 85 perennials and more than 300 spring bulbs throughout The Secret Garden! Volunteers will plant annuals next spring to enhance the beauty of the existing palate of floral colors. Thank you to our donors and fleet of volunteers.